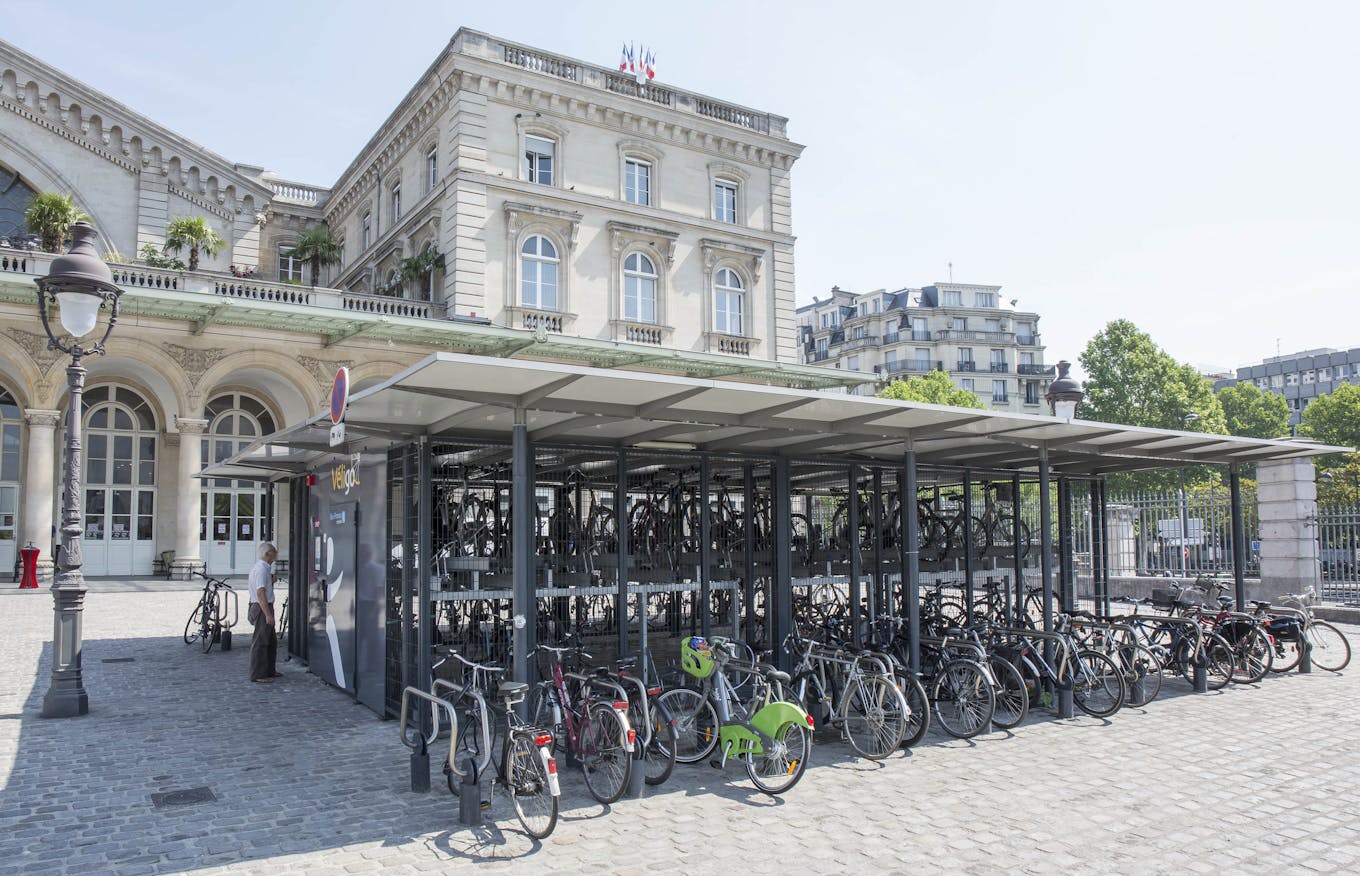 Photo du parking vélo de la Gare de l'Est
The "Parkings Vélos Ile-de-France Mobilités" bike parks guarantee a high-quality bicycle parking space that is easily identifiable near stations.
What is the Ile-de-France Mobilités bicycle parking service?
There are two types of bike park known as "Parkings Vélos Ile-de-France Mobilités" near stations:
Sheltered free-access spaces with a three-point bicycle locking station, for free secure cycle parking;
Closed and secure lockers, accessible with the Navigo pass or a travel card. The majority of these spaces also have CCTV. Some lockers also have charging sockets for electric bikes, lockers for a bag or tyre pumps.
An interactive map to find your bike park
To find a bike park near your station and to sign up for a locker, have a look at the interactive map below: click on the Bicycle Parking of your choice, then on "Abonnez-vous" (Sign up).
Find your bike park
For information or to sign up, please contact the operator of the locker: contact details of the operator and sign up by clicking, from the map, on a location and on "Abonnez-vous" (Sign up).
Tips: how to keep your bike secure
Some practical tips for safely parking your bike:
Choose a good padlock, preferable a U-shaped lock, which are the most secure.
Lock your bike:
ALWAYS LOCK IT even in a secure bike park and for a short period.
FASTEN IT AT THE FRAME and at the front wheel (easier to steal) to a fixed point with the key lock facing down.
A REAR WHEEL LOCK provides additional security.
Have your bike engraved with a code: BICYCODE® marking consists of engraving a unique number on your bike which will make it easier to return your bike to you in the event of loss or theft. For more information, visit: www.bicycode.org
More information on Bicycle Parking
Bike parks are financed by Ile-de-France Mobilités and deployed by local authorities or by transport operators (SNCF or RATP). Today, nearly 8,000 secure or free-access bike spaces are available near stations in Ile-de-France.
From the end of 2020, Ile-de-France Mobilités plans to make 4,000 free secure parking spaces available for Navigo Annual, Imagine R and Senior pass holders. This is to promote greater intermodal transport by encouraging residents to use bicycles in addition to public transport, without having to worry about finding a secure place.
With its new bicycle parking master plan revised in February 2020, Ile-de-France Mobilités has decided to increase by a factor five the number of available bicycle parking spaces, with 100,000 planned by 2030:
50,000 spaces by 2025, with all stations equipped with free parking and half of the stations equipped with closed and secure parking,
100,000 spaces by 2030, with all stations equipped with both free parking and closed and secure parking.