Bringing people and places together
Launched in spring 2021, Tram T9 brings Paris and Val-de-Marne closer with Orly-Ville now just 30 minutes from Paris. It replaces the 183 bus route to offer a faster and more effective service to the department with its dedicated traffic lane and its very frequent service.
Tram T9 serves six towns:
 Paris - 13th arrondissement
Ivry-sur-Seine
Vitry-sur-Seine
Choisy-le-Roi
Thiais
Orly - Ville
Thanks to its connections with many bus routes, and the metro and RER, Tram T9 is fully integrated into the regional transport network and improves the daily commute of Ile-de-France residents and visitors.
Fast, easy, comfortable: everything you need to know about Tram T9!
The tram operates every day of the week, weekends included:
Monday to Friday, 5 a.m. to 12:30 a.m.
Saturday, from 5 a.m. to 1:30 a.m.
Sunday, from 6 a.m. to 12:30 a.m.
 After an initial introductory period, trams are planned to run every five minutes during peak hours. This will be reduced to four minutes from September 2021.
The rest of the day and in the evening, trams run every 6 to 15 minutes maximum.
There are ticket machines at all stops (recharge a pass or buy a T9 Tram ticket for use only on the tram).
Stops and carriages provide step-free access to accommodate all passengers (those in wheelchairs or with strollers for example).
Real-time information on times and connecting services is available on board and at the stop.
 An elegant, timeless and modern design for a "tram lumière".
 USB sockets on the grab bars to charge your phone.
Key figures
10 kilometres
19 stops
6 towns served
30 minutes between Paris Porte de Choisy and Orly Gaston Viens
70 000 passengers expected
22 trainsets, each 45 metres long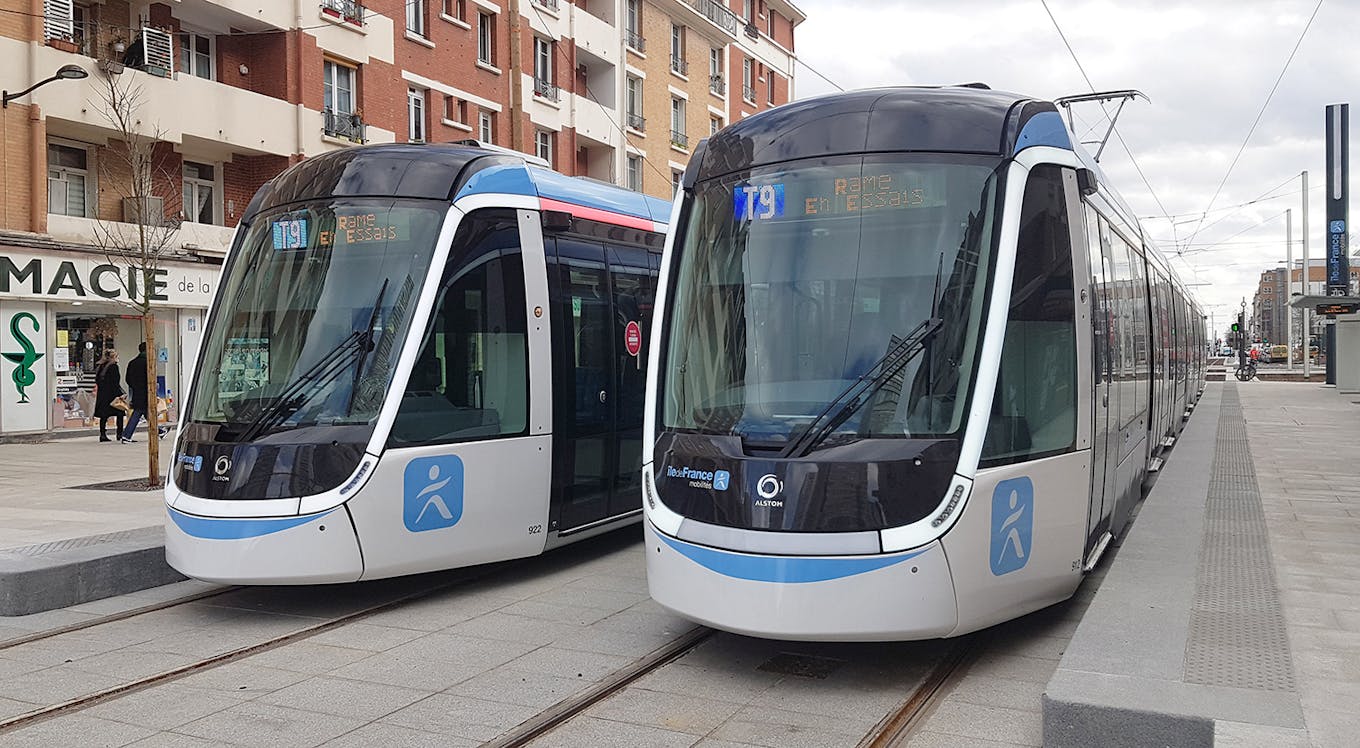 Practical information
You can take the Tram T9 with:
A Navigo ticket (Navigo Annual/Monthly ticket, Navigo Liberté +, imagine R,…)
or
Ticket t+
Contacts
You can contact us 06:00-20:00 Monday to Saturday :
By phone: 0800 08 12 06 (free of charge)
By email:

[email protected]

On Twitter: @T9_IDFmobilites